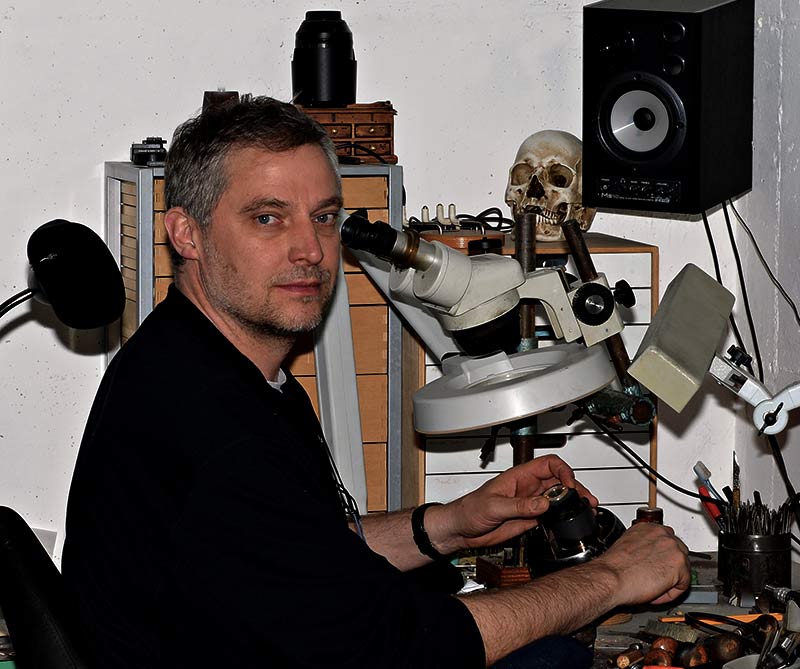 Kees Engelbarts - Engraver
Unique Handmade Watches Geneva
Originally born in the Netherlands, Kees Engelbarts studied Engraving at the Vakschool Schoonhoven / Netherlands, after which he went to Idar-Oberstein / Germany where he studied at the Fachhochschule für Edelstein- und Schmuckgestaltung, before moving to Geneva / Switzerland, where, after a few years working for various companies, he became an Independent Engraver.
Fascinated by Japanese and East-Asian Myths, much of his early work drawn inspiration from them. Many of his dials depict Asian Dragons, their intricate design being both interesting to engrave, and to look at when finished.
He later develops an new style of skeleton movements, more specifically the manual skeletonizing of watch movements by roughly removing material that's not needed. This technique produces highly abstract and organic shapes, two adjectives rarely used when describing a watch. The final result is an interesting contrast of technical elements, held by organic shapes.
Since his Unique Timepieces are highly complex, their production is a lengthy and arduous process, often taking multiple months to complete.
Despite having worked with multiple other Watch companies and Independent Watchmakers, Kees mostly enjoys honoring custom orders with clients who know what they want and recognize his art and life's work.